Naturally Delicious. No Artificial Dyes.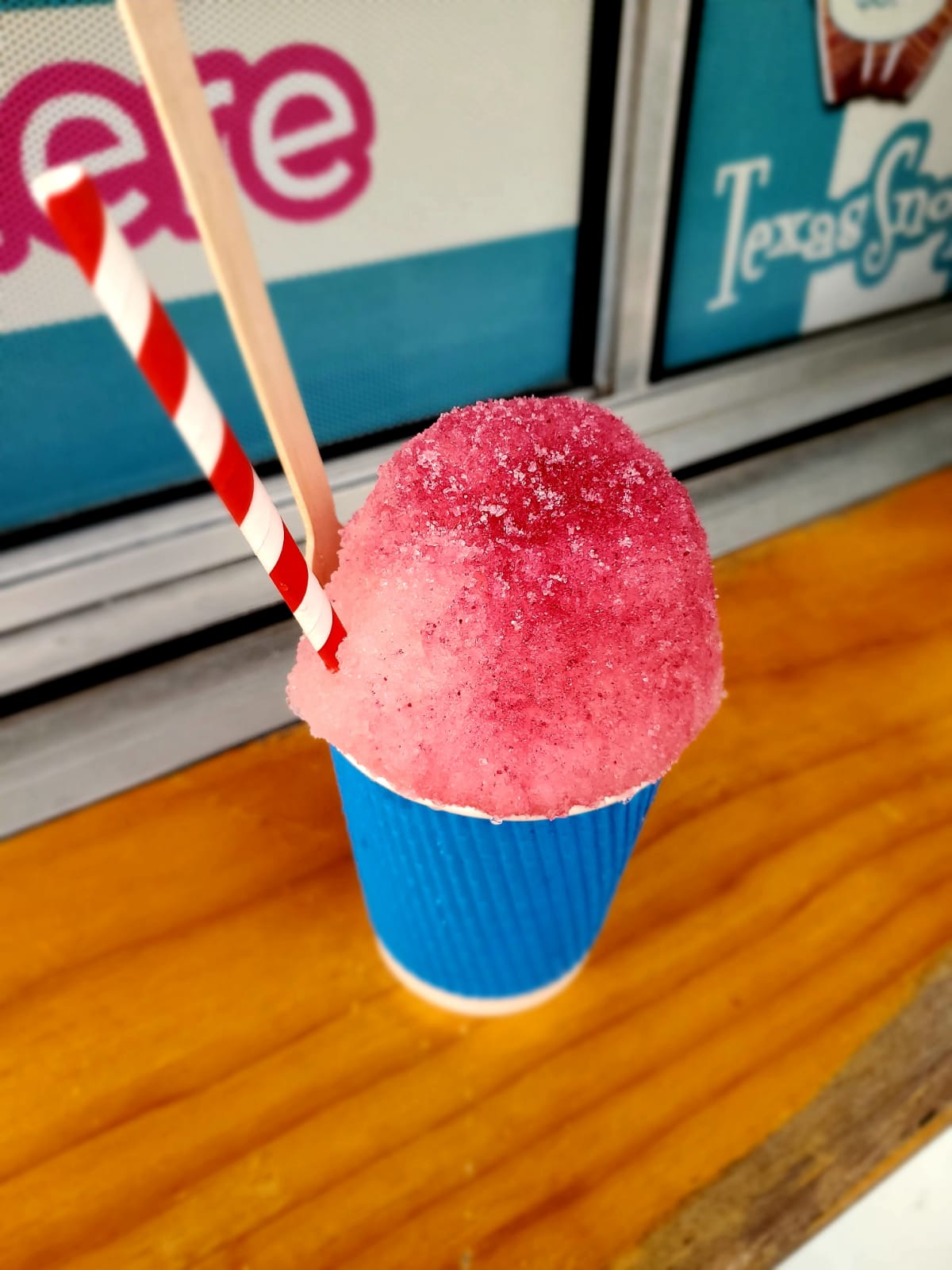 Aloha Hawaii
This island Coconut with Fruit Punch really packs a punch.
Apple of My Ice
This is the refreshing flavor of green apple. If you like apples, you're going to love this flavor.
Arnold Palmer
If you're from Texas you like tea, but a true Texan loves an tea & lemonade mixed Arnold Palmer.
Banana Yo Bizness
Mmmm… who doesn't love bananas? This classic flavor is sure to be a hit.
Black Cherry Chiller
Frighteningly Good Black Cherry flavor. It's to die for!
Blue RazzleBerry
Delicious Blue Raspberries and pomegranate
Bubble Gum
Blue or Pink
This classic bubble gum flavor will take you instantly back to your childhood.
Cherry Treetop
This cherry flavor tastes like it came straight from the tree.
Coconut Coast
This flavor is so good, you'll think you're on vacation on the big island.
Cotton Candy
Blue or Pink
A classic fair treat in snow cone form; delicious and refreshing.
Creamy Cheesecake
This snow cone taste just like the original, plus it's so refreshing.
Grape Popsicle
Taste just like the popsicle you had every weekend as a kid.
Lemon Beam
Pucker up for this lemon classic. It tastes just like you expect.
LimeLicious
A perfect blend of refreshing lemon and lime together.
Man-Go Crazy
If you like mangos, you'll go crazy for this creation.
Margarita Mamacita
Perfect for a summer day at the beach… but without the alcohol.
Orange You Glad
You'll be glad you chose this refreshing, ice cold orange flavor.
Pacific Punch
This Hawaiian classic pack a fruit punch.
Peach Perfect
Perfectly peachy, without all the fuzz.
Pickle
If you like pickles, we mean really like pickles, this one is for you.
Pina Co-La-Di-Da
Let your hair down and join the party.
Pineapple Pipeline
You'll find you tropical oasis with this flavor straight from the island.
Pink Lemonade
This lemonade really packs a punch.
Pomegranate Power
This pomegranate packs a powerful punch.
Rainbow
A flavor medley: Lemon, Strawberry and Blue Razzleberry.
Red Raspberry Rave
A raspberry flavor so good, you'll think it came straight fromt he vine.
Root Beer Fizz
Great root beer flavor with the great, smooth ice texture. What could be better.
Strawberry Bright
Strawberry flavor so bold, it tastes just like it was picked from the vine.
Tigers Blood
Strawberry & Coconut perfectly blended.
Watermelon Wedge
Cool, sweet and deliciously refreshing; perfect for summer.
Wild Blueberry
This is so delicious, you'll think you picked it straight from the vine.
Zombie Virus
Surprisingly delicious Lime & Blueberry mixed perfectly.
We regularly change our sugar free flavors to keep the flavor choice new, so check with us when you visit to see our current sugar free options.
Birthday Cake
Why not celebrate your birthday everyday with this Delicious Yellow Cake flavor. Quickly becoming one of our most popular flavors.
Brown Cow
Creamy chocolate flavor with a hint of vanilla. Take it to the next level by adding your choice of cream.
Wedding Cake
Just as delicious as the Birthday Cake, but with a hint of almond. This one packs a lot of flavor in a small cup.
Vanilla Sno Cream
Vanilla ice cream flavor without the dairy. Perfect with a variety of toppings.
Vanilla Cream
Whipped Cream
Sweet Condensed Milk
Marshmallow Drizzle
Chocolate Drizzle
Caramel Drizzle
Prickly Pear Drizzle
Passion Fruit Drizzle
Chamoy
Tajin
Dill Pickles
Cherry Sugar
Grape Sugar
Lemon Sugar
Tropical Sugar
Lime Salt
Pickle Salt
Shredded Coconut
Gummies
Sour Gummies
Sour Spray
Sweet Tart Bites
Sno Shakes
Our newest creation, Sno Shakes, was introduced in Fall 2021. This is a delicious blend of our shave ice and cream (as well as some other stuff) blended together to make a delicious Sno Shake. You won't want to miss this one.
Below is a small sample of some of our Sno Shakes. Be sure to follow us on Instagram to find our Secret Menu. You'll love what we have there.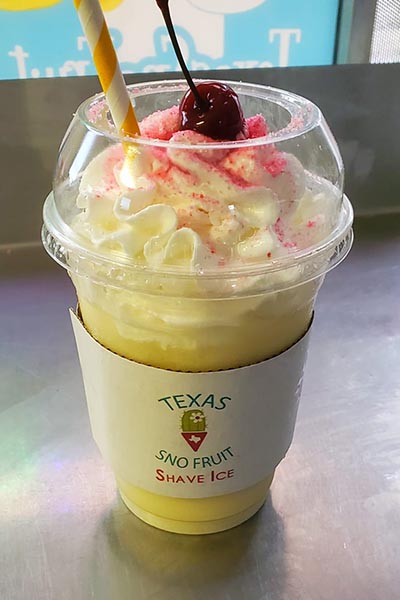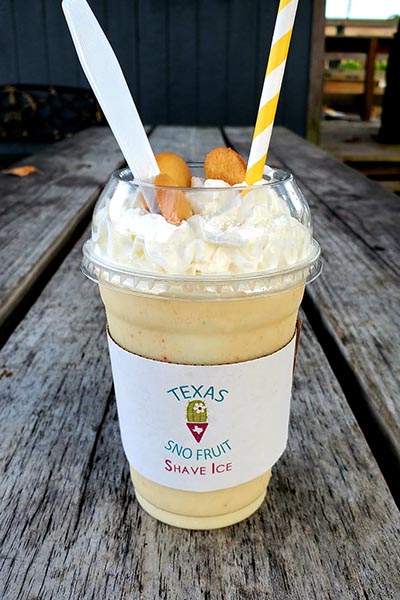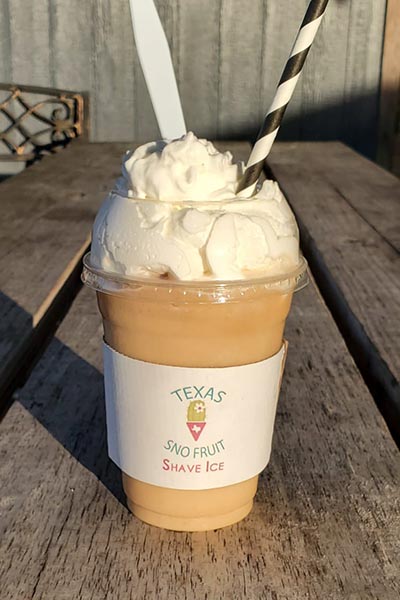 Texas Sno Balls
Our Texas Sno Balls change from week-to-week, depending on the season and available fruits, and other special toppings.
Below is a small sample of some of our collosal Texas Sno Balls. Be sure to stop by often for our weekly flavor Texas Sno Balls.
Share Your Email With Us
Subscribe to Be Notified of Specials!