Texas Sno Fruit
Shave Ice
Naturally Delicious!
Colors and Flavors straight from nature.
No artificial dyes!
Just as delicious as you remember.
View Menu
Welcome to Texas Sno Fruit, we're glad you found us! My name is Christina Strickland, and my husband Dorian and I, started Texas Sno Fruit Shave Ice in 2020.
My husband is a native Texan, and as he likes to tell people, he got me here as quickly as possible! We were married here in Houston in 2000 and after a few years of traveling, we settled back into Houston to start our family and have been here ever since.
We've lived in Alvin since 2008. I love our community, the people, the history, and the spirit that makes Texas special!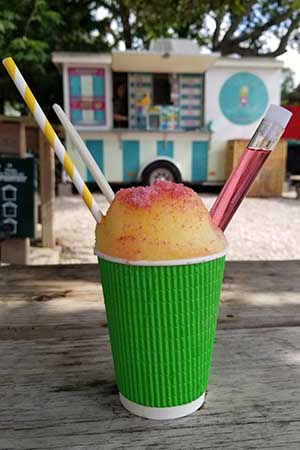 We discovered several years ago that our daughter has a food dye allergy. Food dye allergies are common and frustrating! One of the biggest treats in Texas is snow cones or shave ice, but finding them without food dye is nearly impossible. Our shave ice flavors are made from natural flavors and colors and are safe for those with food dye allergies.
I'm excited to bring our community some of the softest, Hawaiian-style shave ice around! Our Sno Fruit Shave Ice is fresh, fruity, creamy, delicious, and refreshing! Come visit us in Alvin at Scopel Square. I'm thrilled to be apart of the small business community, here in Alvin! See you soon!
We have a over 30 snow cone flavors to choose from. Snow cones are made with no artificial dyes, so they are safe for those with dye allergies.
You can costomize any of our snow cones with any of a variety of toppings, including cream, candy, fruit, and more. As as many or few as you'd like.
Watch for our ever-changing weekly specials. Follow us on Social Media to see this week's special.
We have special "blended" shave ice that are a special combination of flavors that will take you back to your younger days.
MON – FRI
Closed
SAT – SUN
9:00am – 5:00pm
Payments Accepted
Cash, Credit Card, Android & Apple Pay
(Including Contactless RFID)
Located at
Frobergs Tree Farm